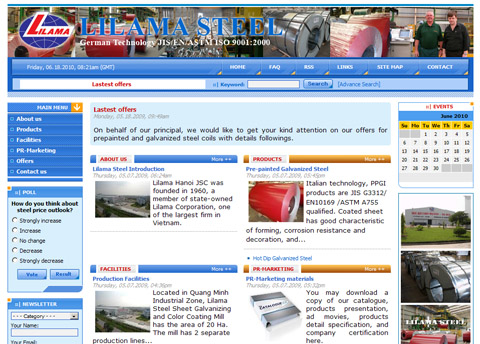 Lilama Hanoi Joint Stock Company was founded in

1960

, a member of state-owned Lilama Corporation, one of the largest firm in Vietnam.

Lilama Steel has been a product of Lilama Hanoi JSC since 2005. With a modern production facility on the outskirts of Hanoi, Lilama Hanoi JSC is promoting a wide range of coated steel products that includes galvanized steel and pre-painted galvanized steel. The products are manufactured in compliance with international standards. In the case of galvanizing the applicable standard is JIS G

3302

/EN

10142

/ASTM A

653

. For the painted coils the applicable standard is JIS G

3312

/

EN

10169

/ASTM A

755

.
With technology, expertise, and capabilities, we can serve any customer accurately, efficiently, and affordably from our steel manufacturing facility near major transportation links in Vietnam. Our modern machinery and equipment combined with the high quality, experienced staff can help to improve your firm"s cash flow and to fulfill all your specific steel needs.
About
Company name:

Steel Mill of Lilama Hanoi Joint Stock Company

Location:

Lot

14

, Quang Minh Industrial Zone, Melinh District, Hanoi, Vietnam

Milestone:

Construction in 2002
Start commercial production in 2005
Current capacity 60%

Director:

Mr. Bui Tat Thang

Employee:

260

Factory area:

20

Ha

Facilities:

+

80000

MT/year hot dip galvanizing line, technology from Germany,
integrated with Skill Pass Mill and Tension Leveller, NOF.
+

50000

MT/year continuous color coating line, technology from Italy.

Products:

+ Hot dip galvanized steel coil/sheet
+ Pre-painted galvanized steel coil/sheet